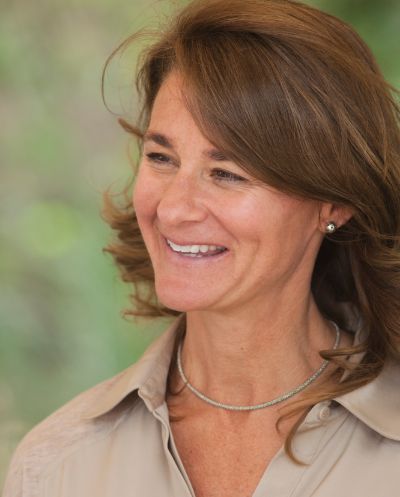 Books about making change
5 Books | by Melinda Gates
Books that will inspire you to see the world not only as it is, but as it ought to be.
The Prison Letters of Nelson Mandela
Books
An unforgettable portrait of one of the most inspiring historical figures of the twentieth century, published on the centenary of his birth.
Fifty Million Rising
Books
Across the Muslim world, representing a fifth of the global population, unprecedented numbers of women are going to work. In the span of just over a decade, millions have joined the workforce, giving them more earning and purchasing power and greater personal autonomy. In Fifty Million Rising, award-winning economist Saadia Zahidi illuminates this discreet but momentous revolution by sifting through the data and relating the personal stories of the remarkable women who are at the forefront of this revolution-a McDonald's worker in Pakistan who has climbed the ranks to manager; the founder of an online hijab fashion startup in Indonesia; a widow in Egypt who owns a catering business with her daughter, against her son's wishes; and an executive in a Saudi corporation who is transforming the culture of her workplace; among many others. These women are challenging familial and social conventions, as well as compelling businesses to cater to women as both workers and consumers. More importantly, they are gaining the economic power that will upend entrenched cultural norms, re-shape how women are viewed in the Muslim world and elsewhere, and change the mindset of the next generation. Economics trumps culture-and then shapes culture. Inspiring and deeply reported, Fifty Million Rising is a uniquely insightful portrait of a seismic shift with global significance, as Muslim women worldwide claim a seat at the table.
Dear Ijeawele, or A Feminist Manifesto in Fifteen Suggestions
Books
A few years ago, Chimamanda Ngozi Adichie received a letter from a childhood friend, a new mother who wanted to know how to raise her baby girl to be a feminist. Dear Ijeawele is Adichie's letter of response: fifteen invaluable suggestions—direct, wryly funny, and perceptive—for how to empower a daughter to become a strong, independent woman. Filled with compassionate guidance and advice, it gets right to the heart of sexual politics in the twenty-first century, and starts a new and urgently needed conversation about what it really means to be a woman today.
The Hate U Give
Books
8 starred reviews ∙ Goodreads Choice Awards Best of the Best ∙ William C. Morris Award Winner ∙ National Book Award Longlist ∙ Printz Honor Book ∙ Coretta Scott King Honor Book ∙ #1 New York Times Bestseller!"Absolutely riveting!" —Jason Reynolds"Stunning." —John Green"This story is necessary. This story is important." —Kirkus (starred review)"Heartbreakingly topical." —Publishers Weekly (starred review)"A marvel of verisimilitude." —Booklist (starred review)"A powerful, in-your-face novel." —Horn Book (starred review)Sixteen-year-old Starr Carter moves between two worlds: the poor neighborhood where she lives and the fancy suburban prep school she attends. The uneasy balance between these worlds is shattered when Starr witnesses the fatal shooting of her childhood best friend Khalil at the hands of a police officer. Khalil was unarmed.Soon afterward, his death is a national headline. Some are calling him a thug, maybe even a drug dealer and a gangbanger. Protesters are taking to the streets in Khalil's name. Some cops and the local drug lord try to intimidate Starr and her family. What everyone wants to know is: what really went down that night? And the only person alive who can answer that is Starr. But what Starr does—or does not—say could upend her community. It could also endanger her life.And don't miss On the Come Up, Angie Thomas's powerful follow-up to The Hate U Give.
Mighty Be Our Powers
Books
As a young woman growing up in Africa, Leymah Gbowee was broken by a savage civil war that destroyed life as she knew it, depriving her of the education she yearned for and claiming the lives of relatives and friends. As war continued to ravage Liberia, Gbowee's bitterness turned to rage-fueled action as she realized it is women who are the silent sufferers in prolonged conflicts. Passionate and charismatic, Gbowee was instrumental in galvanizing women across Liberia in 2003 to force a peace in the region after 14 years of war. She began organizing Christian and Muslim women to demonstrate tog.