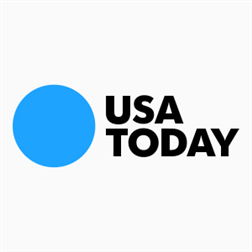 Bestsellers August 24th
5 Books | by USA TODAY
The top selling titles of the week based on an analysis of sales from U.S. booksellers
Seeing Red
Books
National Book Award winner Kathryn Erskine delivers a powerful story of family, friendship, and race relations in the South. Life will never be the same for Red Porter. He's a kid growing up around black car grease, white fence paint, and the backward attitudes of the folks who live in his hometown, Rocky Gap, Virginia. Red's daddy, his idol, has just died, leaving Red and Mama with some hard decisions and a whole lot of doubt. Should they sell the Porter family business, a gas station, repair shop, and convenience store rolled into one, where the slogan -- "Porter's: We Fix it Right!" -- has been shouting the family's pride for as long as anyone can remember? With Daddy gone, everything's different. Through his friendship with Thomas, Beau, and Miss Georgia, Red starts to see there's a lot more than car motors and rusty fenders that need fixing in his world. When Red discovers the injustices that have been happening in Rocky Gap since before he was born, he's faced with unsettling questions about his family's legacy.
The Glass Castle
Books
Now a major motion picture from Lionsgate starring Brie Larson, Woody Harrelson, and Naomi Watts. MORE THAN SEVEN YEARS ON THE NEW YORK TIMES BESTSELLER LIST The perennially bestselling, extraordinary, one-of-a-kind, "nothing short of spectacular" (Entertainment Weekly) memoir from one of the world's most gifted storytellers. The Glass Castle is a remarkable memoir of resilience and redemption, and a revelatory look into a family at once deeply dysfunctional and uniquely vibrant. When sober, Jeannette's brilliant and charismatic father captured his children's imagination, teaching them physics, geology, and how to embrace life fearlessly. But when he drank, he was dishonest and destructive. Her mother was a free spirit who abhorred the idea of domesticity and didn't want the responsibility of raising a family. The Walls children learned to take care of themselves. They fed, clothed, and protected one another, and eventually found their way to New York. Their parents followed them, choosing to be homeless even as their children prospered. The Glass Castle is truly astonishing—a memoir permeated by the intense love of a peculiar but loyal family.
Wonder
Books
SOON TO BE A MAJOR MOTION PICTURE STARRING JULIA ROBERTS, OWEN WILSON, AND JACOB TREMBLAY! Over 5 million people have read the #1 New York Times bestseller WONDER and have fallen in love with Auggie Pullman, an ordinary boy with an extraordinary face. The book that inspired the Choose Kind movement. I won't describe what I look like. Whatever you're thinking, it's probably worse. August Pullman was born with a facial difference that, up until now, has prevented him from going to a mainstream school. Starting 5th grade at Beecher Prep, he wants nothing more than to be treated as an ordinary kid—but his new classmates can't get past Auggie's extraordinary face. WONDER, now a #1 New York Times bestseller and included on the Texas Bluebonnet Award master list, begins from Auggie's point of view, but soon switches to include his classmates, his sister, her boyfriend, and others. These perspectives converge in a portrait of one community's struggle with empathy, compassion, and acceptance. "Wonder is the best kids' book of the year," said Emily Bazelon, senior editor at Slate.com and author of Sticks and Stones: Defeating the Culture of Bullying and Rediscovering the Power of Character and Empathy. In a world where bullying among young people is an epidemic, this is a refreshing new narrative full of heart and hope. R.J. Palacio has called her debut novel "a meditation on kindness" —indeed, every reader will come away with a greater appreciation for the simple courage of friendship. Auggie is a hero to root for, a diamond in the rough who proves that you can't blend in when you were born to stand out. Join the conversation: #thewonderofwonder
The Store
Books
THE STORE IS WATCHING YOU. Jacob and Megan Brandeis have gotten jobs with the mega-successful, ultra-secretive Store. Seems perfect. Seems safe. But their lives are about to become anything but perfect, anything but safe. ALWAYS WATCHING. Especially since Jacob and Megan have a dark secret of their own. They're writing a book that will expose the Store--a forbidden book, a dangerous book. ALWAYS. And if the Store finds out, there's only one thing Jacob, Megan and their kids can do--run for their bloody lives. Which is probably impossible, because-- THE STORE IS ALWAYS WATCHING.
I Know a Secret: A Rizzoli & Isles Novel
Books
"Suspense doesn't get smarter than this."—Lee Child Jane Rizzoli and Maura Isles—the inspiration for the smash hit TNT series—continue their bestselling crime-solving streak, as they pursue a shadowy psychopath keeping secrets and taking lives. Two separate homicides, at different locations, with unrelated victims, have more in common than just being investigated by Boston PD detective Jane Rizzoli and medical examiner Maura Isles. In both cases, the bodies bear startling wounds—yet the actual cause of death is unknown. It's a doubly challenging case for the cop and the coroner to be taking on, at a fraught time for both of them. As Jane struggles to save her mother from the crumbling marriage that threatens to bury her, Maura grapples with the imminent death of her own mother—infamous serial killer Amalthea Lank. While Jane tends to her mother, there's nothing Maura can do for Amalthea, except endure one final battle of wills with the woman whose shadow has haunted her all her life. Though succumbing to cancer, Amalthea hasn't lost her taste for manipulating her estranged daughter—this time by dangling a cryptic clue about the two bizarre murders Maura and Jane are desperately trying to solve. But whatever the dying convict knows is only a piece of the puzzle. Soon the investigation leads to a secretive young woman who survived a shocking abuse scandal, an independent horror film that may be rooted in reality, and a slew of martyred saints who died cruel and unusual deaths. And just when Rizzoli and Isles think they've cornered a devilish predator, the long-buried past rears its head—and threatens to engulf more innocent lives, including their own. Advance praise for I Know a Secret: A Rizzoli & Isles Novel "The latest in the Rizzoli and Isles series mixes martyrdom, murder, and mystery. . . . [Tess] Gerritsen's fans won't be surprised at the grisly crimes or the graphic autopsies—not for nothing is Dr. Maura Isles nicknamed 'Boston's Queen of the Dead.' One character's statement that 'sometimes up really is down' applies to this complex and enjoyable story. It's a worthy addition to the series."—Kirkus Reviews "The bitterness of a Boston winter doesn't hinder a killer with a knack for gruesome murders in bestseller Gerritsen's twisty twelfth Rizzoli & Isles mystery. . . . Gerritsen smoothly blends her leads' domestic dramas with the hunt for the ruthless killer."—Publishers Weekly "Be prepared for an exciting ride with unexpected twists and terrific writing."—Library Journal Praise for Tess Gerritsen "Tess Gerritsen's clever plotting and medical knowledge give her thrillers that extra edge. Expect a white-knuckle ride to very dark places."—Paula Hawkins, #1 New York Times bestselling author of The Girl on the Train