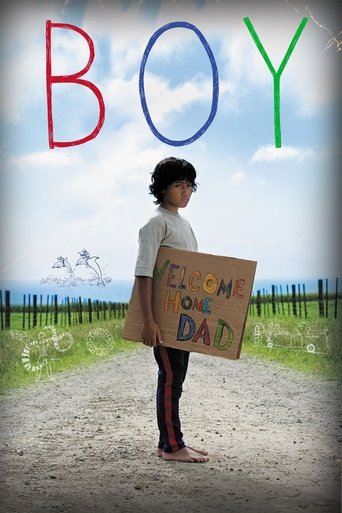 Boy
Movies
It's 1984, and Michael Jackson is king - even in Waihau Bay, New Zealand. Here we meet Boy, an 11-year-old who lives on a farm with his gran, a goat, and his younger brother, Rocky (who thinks he has magic powers). Shortly after Gran leaves for a week, Boy's father, Alamein, appears out of the blue. Having imagined a heroic version of his father during his absence, Boy comes face to face with the real version-an incompetent hoodlum who has returned to find a bag of money he buried years before. This is where the goat enters.
Ghost in the Shell 2.0
Movies
In the year 2029, Section 9, a group of cybernetically enhanced cops, are called in to investigate and stop a highly-wanted hacker known as 'The Puppetmaster'. Ghost in the Shell 2.0 is a reproduced version of its original 1995 counterpart. Among a numerous enhancements, for the film's 2.0 release, were a number of scenes were overhauled with 3D animation, visual improvements, and soundtrack rerecorded in 6.1 surround sound.
Ghost in the Shell: Stand Alone Complex - The Laughing Man
Movies
The year is 2030 and six years have passed since a criminal known only as "The Laughing Man" swept through top medical nanotechnology firms committing acts of cyber-terrorism, kidnapping, and espionage leaving no known suspects. New information is revealed, as Section 9 enters the hunt for a suspect capable of unfathomable actions in this compilation of Stand Alone Complex content.
Ghost in the Shell 2: Innocence
Movies
Groundbreaking director Mamoru Oshii continues to push the boundaries of art and anime with this universally acclaimed cyber thriller following cyborg detective Batou as he tries to unravel the reasons for a murderous robot revolt in the year 2032. A quest for a killer that becomes a mind bending search for the meaning of life.
Ghost in the Shell: Stand Alone Complex - Solid State Society
Movies
The story takes place in the year 2034, two years after the events in Ghost in the Shell: S.A.C. 2nd GIG. Female cyborg Major Motoko Kusanagi has left Public Security Section 9, an elite counter-terrorist and anti-crime unit specializing in cyber-warfare, which has expanded to a team of 20 field operatives with Togusa acting as the field lead.