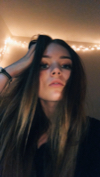 Bio
Just a girl reading books and watching tv and giving some recs. Check em out!
Enthusiast
Activity
408
Recs
Lists
1
Asks
Fantasy books have always been my personal favorite only because of the escape it gives me. For those of you who often find themselves predicting the plot, like me, might have difficulty with this series. The characters are constantly growing and changing, which is one of the key features of a book for me. Be patient and give this one a read! It's a long one though, so be prepared to dedicate some time to it (definitely worth it though for you fantasy fans, promise.)
Throne of Glass
Books
| Sarah J. Maas
Also Recommended By
Featured Likewisers
You're following all of our Featured Likewisers already!