CatDog
Shows
CatDog is an American animated television series created for Nickelodeon by Peter Hannan. The series depicts the life of conjoined brothers, with one half being a cat and the other a dog. Nickelodeon produced the series from Burbank, California. The first episode aired on April 4, 1998, before the show officially premiered in October. The episode "Fetch" was also shown in theaters with The Rugrats Movie. Toward the end of the series run, a made-for-TV film was released, titled CatDog: The Great Parent Mystery. Reruns were played on Nicktoons until 2011 and later aired on TeenNick as part of The '90s Are All That block. The series is produced by Nickelodeon Animation Studio and Peter Hannan Productions and has been released on DVD.
Tom and Jerry
Shows
Tom and Jerry is a series of theatrical animated cartoon films created by William Hanna and Joseph Barbera for Metro-Goldwyn-Mayer, centering on a rivalry between a cat and a mouse whose chases include slapstick comedy. Hanna and Barbera ultimately wrote, produced, and directed 114 Tom and Jerry shorts at MGM cartoon studios in Hollywood from 1940 to 1957. The original series is notable for having won seven Academy Awards, tying with Walt Disney's Silly Symphonies as the theatrical animated series with the most Oscars. A longtime television staple, Tom and Jerry has a worldwide audience and has been recognized as one of the most famous and longest-lived rivalries in American cinema. MGM released an additional 13 entries in 1961 produced by Rembrandt Films led by Gene Deitch in central Europe. Chuck Jones' Sib-Tower 12 Productions produced another 34 entries between 1963–1967, creating a total of 161 theatrical entries. Tom and Jerry resurfaced in made-for-television series produced by Hanna-Barbera Productions and Filmation Studios starting in the 1970s. The feature-length film Tom and Jerry: The Movie was released in 1992, and was followed by their first made-for-television short Tom and Jerry: The Mansion Cat for Boomerang. The most recent Tom and Jerry theatrical short, The Karate Guard, was written and co-directed by Barbera.
Rocko's Modern Life
Shows
Rocko is a wallaby who has emigrated to America from Australia. He lives in O-Town and tries to get through life but, of course, comes across a multitude of dilemmas and misadventures he must get through. Other characters include Rocko's best friend, Heffer, a steer who has been raised by wolves, Filbert, a paranoid hypochondriac turtle, Rocko's faithful (but none-too-bright) dog Spunky, and Ed Bighead who detests Rocko and hates having him for a next door neighbor. On this show, Rocko has such adventures as trying to adapt to a new vacuum cleaner, having Heffer move in temporarily after his parents kick him out, and going to a movie theater.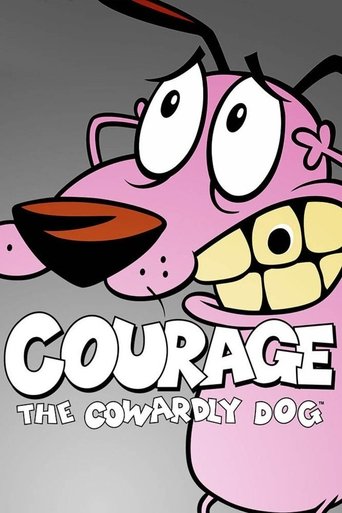 Courage the Cowardly Dog
Shows
The bizarre misadventures of a cowardly dog named Courage and his elderly owners in a farmhouse in Nowhere, Kansas.
The Scooby-Doo Show
Shows
The Scooby-Doo Show is the blanket name for the episodes from the third incarnation of the Hanna-Barbera Saturday morning cartoon Scooby-Doo. A total of 40 episodes ran for three seasons, from 1976 to 1978, on ABC, marking the first Scooby series to appear on the network. Sixteen episodes were produced as segments of The Scooby-Doo/Dynomutt Hour in 1976, eight episodes were produced as segments of Scooby's All-Star Laff-A-Lympics in 1977 and sixteen episodes were produced in 1978, with nine of them running by themselves under the Scooby-Doo, Where Are You! name and the final seven as segments of Scooby's All-Stars. Despite the yearly changes in the way they were broadcast, the 1976–1978 stretch of Scooby episodes represents, at three seasons, the longest-running format of the original show before the addition of Scrappy-Doo. The episodes from all three seasons have been rerun under the title The Scooby-Doo Show since 1980; these Scooby episodes did not originally air under this title. The credits on these syndicated versions all feature a 1976 copyright date, even though some were originally produced in 1977 and 1978. Reruns are currently air on Boomerang. Like many animated series created by Hanna-Barbera in the 1970s, the show contained a laugh track created by the studio.