Rolie Polie Olie
Shows
Rolie Polie Olie was a children's television series produced by Nelvana, distributed by Disney, and created by William Joyce, Maggie Swanson, and Anne Wood. The show centers on a little roly pollie who is composed of several spheres and other three-dimensional geometric shapes. The show was one of the earliest series that was fully animated in CGI, and the first CGI animated preschool series.Rolie Polie Olie now airs in reruns on Disney Junior. Rolie Polie Olie won a Gemini Award in Canada for "Best Animated Program" in 1999. The show also won a Daytime Emmy Award for "Outstanding Special Class Animated Program" in 2000 and 2005. William Joyce won a 1999 Daytime Emmy for Best Production Design for this series. The show has a vintage atmosphere reminiscent of the 1950s and early 1960s, with futuristic elements.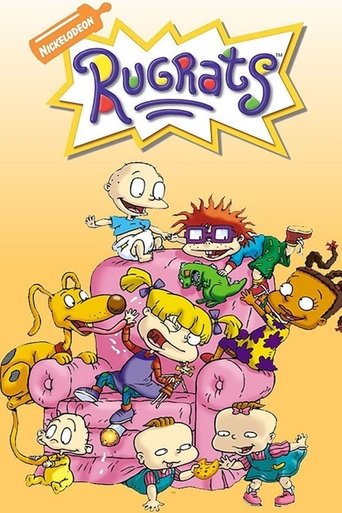 Rugrats
Shows
Rugrats is an American animated television series created by Arlene Klasky, Gábor Csupó, and Paul Germain for Nickelodeon. The show focuses on a group of toddlers, most prominently Tommy, Chuckie, Phil, Lil, and Angelica, and their day-to-day lives, usually involving common life experiences that become adventures in the babies' imaginations. Adults in the series are almost always unaware of what the children are up to; however, this only provides more room for the babies to explore and discover their surroundings. The series premiered on August 11, 1991, as the second Nicktoon after Doug and preceding The Ren & Stimpy Show. Production initially halted in 1993 after 65 episodes, with the last one airing on May 22, 1994. From 1995 to 1996, the only new episodes broadcast were "A Rugrats Passover" and "A Rugrats Chanukah", two heavily Jewish-themed episodes that both received much critical praise. New Rugrats episodes began airing regularly again in 1997, and The Rugrats Movie, which introduced the character of Tommy's younger brother Dil, was released in November 1998. A sequel titled Rugrats in Paris: The Movie came about in 2000, and the infant character Kimi and her mother Kira were added to the series' cast. Rugrats Go Wild, a crossover film with fellow Nicktoon The Wild Thornberrys, was released in 2003 to mixed reviews. The final episode aired on June 8, 2004, bringing the series to a total of 172 episodes and 9 seasons.
The Powerpuff Girls
Shows
The Powerpuff Girls is an American animated television series created by animator Craig McCracken and produced by Cartoon Network Studios for Cartoon Network. The show centers on Blossom, Bubbles, and Buttercup, three kindergarten-aged girls with superpowers, as well as their "father", the brainy scientist Professor Utonium, who all live in the fictional city of Townsville, USA. The girls are frequently called upon by the town's childlike and naive mayor to help fight nearby criminals using their powers. McCracken originally developed the show in 1992 as a cartoon short entitled Whoopass Stew! while in his second year at CalArts. Following a name change, Cartoon Network featured the first Powerpuff Girls pilots in its animation showcase program World Premiere Toons in 1995 and 1996. The series made its official debut as a Cartoon Cartoon on November 18, 1998, with the final episode airing on March 25, 2005. A total of 78 episodes were aired in addition to two shorts, a Christmas special, a feature film, and a tenth anniversary special. Additionally, the series has been nominated for six Emmy Awards, nine Annie Awards, and a Kids' Choice Award during its run. Spin-off media include an anime, three CD soundtracks, a home video collection, and a series of video games, as well as various licensed merchandise. The series has received generally positive reception and won four awards.
PB&J Otter
Shows
PB&J Otter is an American animated children's series which premiered on Playhouse Disney on March 15, 1998. A total of 65 episodes were produced during the course of its three season run, with the "farewell" episode airing on September 24, 2000. The series centered on the otter family who lived in the rural fishing community of Lake Hoohaw. Most stories revolved around the otter kids: older brother Peanut, younger sister Jelly, and diapered baby Butter, as well as their friends and neighbors. Supporting characters included gossipy Cranes, overly hygienic raccoons, a junk-collecting Mayor, and some very wealthy Poodles. The show was created by Jim Jinkins, and executive produced by David Campbell in close conjunction with Harvard University's Cognitive Skills Group, "Project Zero". The Group's job was to monitor each and make sure the material had a positive educational message. In that respect, PB&J Otter was one of the few shows of its kind on the air at that time. This show features songs with music by Andy Street and lyrics by Judy Rothman.
Codename: Kids Next Door
Shows
Codename: Kids Next Door, also known as Kids Next Door or by its initials KND, is an American animated television series created by Tom Warburton and produced by Curious Pictures in Santa Monica, California. The series debuted on Cartoon Network on December 6, 2002, and aired its final episode on January 25, 2008. The series came about as the result of a viewer's poll by Cartoon Network. The series centers on the adventures of five 10-year-old children who operate from a high-tech tree house. Their mission is to fight "crimes" against kids, such as homework and flossing, committed by adults, senior citizens, teenagers, and other "evil" children. They make up what is known as Sector V of a worldwide organization called the Kids Next Door. The show was also part of Cartoon Network's series, Cartoon Cartoons, and is the 13th cartoon of the series. It returns on a show called Cartoon Planet.