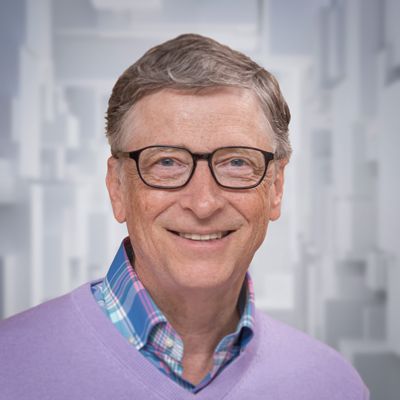 5 books I loved in 2018
5 Books | by Bill Gates
If you're like me, you love giving--or getting!--books during the holidays. Here are five books I loved in 2018.
The Headspace Guide to Meditation and Mindfulness
Books
Quiet the mind, feel less stressed, less tired, and achieve a new level of calm and fulfillment in just ten minutes a day Andy Puddicombe, a former Buddhist monk, the Voice of Headspace, and the UK's foremost mindfulness expert, is on a mission: to get people to take 10 minutes out of their day to sit in the here and now. Like his readers and students, Andy began his own meditation practice as a normal, busy person with everyday concerns, and he has since designed a program of mindfulness and guided meditation that fits neatly into a jam-packed daily routine—proving that just 10 minutes a day can make a world of difference. Accessible and portable, The Headspace Guide to Meditation and Mindfulness offers simple but powerful meditation techniques that positively impact every area of physical and mental health: from productivity and focus, to stress and anxiety relief, sleep, weight-loss, personal relationships...the benefits are limitless. The result? More headspace, less stress. Andy brings this ancient practice into the modern world, tailor made for the most time starved among us. Switch off after work * Fall asleep at night * Feel less anxious, sad, or angry * Control your cravings * Find a healthy weight
Army of None: Autonomous Weapons and the Future of War
Books
A Pentagon defense expert and former U.S. Army Ranger explores what it would mean to give machines authority over the ultimate decision of life or death. What happens when a Predator drone has as much autonomy as a Google car? Or when a weapon that can hunt its own targets is hacked? Although it sounds like science fiction, the technology already exists to create weapons that can attack targets without human input. Paul Scharre, a leading expert in emerging weapons technologies, draws on deep research and firsthand experience to explore how these next-generation weapons are changing warfare. Scharre's far-ranging investigation examines the emergence of autonomous weapons, the movement to ban them, and the legal and ethical issues surrounding their use. He spotlights artificial intelligence in military technology, spanning decades of innovation from German noise-seeking Wren torpedoes in World War II—antecedents of today's homing missiles—to autonomous cyber weapons, submarine-hunting robot ships, and robot tank armies. Through interviews with defense experts, ethicists, psychologists, and activists, Scharre surveys what challenges might face "centaur warfighters" on future battlefields, which will combine human and machine cognition. We've made tremendous technological progress in the past few decades, but we have also glimpsed the terrifying mishaps that can result from complex automated systems—such as when advanced F-22 fighter jets experienced a computer meltdown the first time they flew over the International Date Line. At least thirty countries already have defensive autonomous weapons that operate under human supervision. Around the globe, militaries are racing to build robotic weapons with increasing autonomy. The ethical questions within this book grow more pressing each day. To what extent should such technologies be advanced? And if responsible democracies ban them, would that stop rogue regimes from taking advantage? At the forefront of a game-changing debate, Army of None engages military history, global policy, and cutting-edge science to argue that we must embrace technology where it can make war more precise and humane, but without surrendering human judgment. When the choice is life or death, there is no replacement for the human heart.
21 Lessons for the 21st Century
Books
In Sapiens, he explored our past. In Homo Deus, he looked to our future. Now, one of the most innovative thinkers on the planet turns to the present to make sense of today's most pressing issues. How do computers and robots change the meaning of being human? How do we deal with the epidemic of fake news? Are nations and religions still relevant? What should we teach our children? Yuval Noah Harari's 21 Lessons for the 21st Century is a probing and visionary investigation into today's most urgent issues as we move into the uncharted territory of the future. As technology advances faster than our understanding of it, hacking becomes a tactic of war, and the world feels more polarized than ever, Harari addresses the challenge of navigating life in the face of constant and disorienting change and raises the important questions we need to ask ourselves in order to survive. In twenty-one accessible chapters that are both provocative and profound, Harari builds on the ideas explored in his previous books, untangling political, technological, social, and existential issues and offering advice on how to prepare for a very different future from the world we now live in: How can we retain freedom of choice when Big Data is watching us? What will the future workforce look like, and how should we ready ourselves for it? How should we deal with the threat of terrorism? Why is liberal democracy in crisis? Harari's unique ability to make sense of where we have come from and where we are going has captured the imaginations of millions of readers. Here he invites us to consider values, meaning, and personal engagement in a world full of noise and uncertainty. When we are deluged with irrelevant information, clarity is power. Presenting complex contemporary challenges clearly and accessibly, 21 Lessons for the 21st Century is essential reading.
Educated
Books
An unforgettable memoir about a young girl who, kept out of school, leaves her survivalist family and goes on to earn a PhD from Cambridge University One of . . . The New York Times Book Review's Must-Know Literary Events of 2018 BBC's Books Look Ahead 2018 Stylist's 20 Must-Read Books to Make Room For in 2018 Entertainment Weekly's 50 Most Anticipated Books of 2018 Bustle's 13 Authors You Need to Be Watching in 2018 LibraryReads's February Top 10 Daily Express's Must-Have New Reads The Pool's Books We're Looking Forward to in 2018 Vogue's What to Read This Fall Tara Westover was seventeen the first time she set foot in a classroom. Born to survivalists in the mountains of Idaho, she prepared for the end of the world by stockpiling home-canned peaches and sleeping with her "head-for-the-hills" bag. In the summer she stewed herbs for her mother, a midwife and healer, and in the winter she salvaged metal in her father's junkyard. Her father distrusted the medical establishment, so Tara never saw a doctor or nurse. Gashes and concussions, even burns from explosions, were all treated at home with herbalism. The family was so isolated from mainstream society that there was no one to ensure the children received an education, and no one to intervene when an older brother became violent. When another brother got himself into college and came back with news of the world beyond the mountain, Tara decided to try a new kind of life. She taught herself enough mathematics, grammar, and science to take the ACT and was admitted to Brigham Young University. There, she studied psychology, politics, philosophy, and history, learning for the first time about pivotal world events like the Holocaust and the Civil Rights Movement. Her quest for knowledge transformed her, taking her over oceans and across continents, to Harvard and to Cambridge University. Only then would she wonder if she'd traveled too far, if there was still a way home. Educated is an account of the struggle for self-invention. It is a tale of fierce family loyalty, and of the grief that comes from severing one's closest ties. With the acute insight that distinguishes all great writers, Westover has crafted a universal coming-of-age story that gets to the heart of what an education is and what it offers: the perspective to see one's life through new eyes, and the will to change it.
Sign up to the see the full list!
Check out the rest of the list with a free account
Already have an account? Sign in