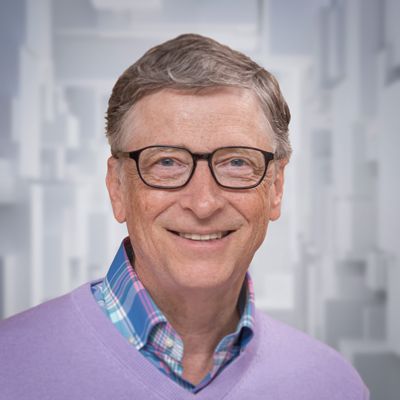 Books that shaped how I think about the world
4 Books | by Bill Gates
These books make me optimistic about the world and help me understand the role of innovation in driving progress.
Factfulness
Books
INSTANT NEW YORK TIMES BESTSELLER"One of the most important books I've ever read—an indispensable guide to thinking clearly about the world." – Bill Gates"Hans Rosling tells the story of 'the secret silent miracle of human progress' as only he can. But Factfulness does much more than that. It also explains why progress is so often secret and silent and teaches readers how to see it clearly." —Melinda Gates"Factfulness by Hans Rosling, an outstanding international public health expert, is a hopeful book about the potential for human progress when we work off facts rather than our inherent biases." - Former U.S. President Barack ObamaFactfulness: The stress-reducing habit of only carrying opinions for which you have strong supporting facts. When asked simple questions about global trends—what percentage of the world's population live in poverty; why the world's population is increasing; how many girls finish school—we systematically get the answers wrong. So wrong that a chimpanzee choosing answers at random will consistently outguess teachers, journalists, Nobel laureates, and investment bankers.In Factfulness, Professor of International Health and global TED phenomenon Hans Rosling, together with his two long-time collaborators, Anna and Ola, offers a radical new explanation of why this happens. They reveal the ten instincts that distort our perspective—from our tendency to divide the world into two camps (usually some version of us and them) to the way we consume media (where fear rules) to how we perceive progress (believing that most things are getting worse). Our problem is that we don't know what we don't know, and even our guesses are informed by unconscious and predictable biases.It turns out that the world, for all its imperfections, is in a much better state than we might think. That doesn't mean there aren't real concerns. But when we worry about everything all the time instead of embracing a worldview based on facts, we can lose our ability to focus on the things that threaten us most. Inspiring and revelatory, filled with lively anecdotes and moving stories, Factfulness is an urgent and essential book that will change the way you see the world and empower you to respond to the crises and opportunities of the future. ---"This book is my last battle in my life-long mission to fight devastating ignorance...Previously I armed myself with huge data sets, eye-opening software, an energetic learning style and a Swedish bayonet for sword-swallowing. It wasn't enough. But I hope this book will be." Hans Rosling, February 2017.
Sapiens
Books
New York Times BestsellerA Summer Reading Pick for President Barack Obama, Bill Gates, and Mark Zuckerberg From a renowned historian comes a groundbreaking narrative of humanity's creation and evolution—a #1 international bestseller—that explores the ways in which biology and history have defined us and enhanced our understanding of what it means to be "human."One hundred thousand years ago, at least six different species of humans inhabited Earth. Yet today there is only one—homo sapiens. What happened to the others? And what may happen to us?Most books about the history of humanity pursue either a historical or a biological approach, but Dr. Yuval Noah Harari breaks the mold with this highly original book that begins about 70,000 years ago with the appearance of modern cognition. From examining the role evolving humans have played in the global ecosystem to charting the rise of empires, Sapiens integrates history and science to reconsider accepted narratives, connect past developments with contemporary concerns, and examine specific events within the context of larger ideas.Dr. Harari also compels us to look ahead, because over the last few decades humans have begun to bend laws of natural selection that have governed life for the past four billion years. We are acquiring the ability to design not only the world around us, but also ourselves. Where is this leading us, and what do we want to become?Featuring 27 photographs, 6 maps, and 25 illustrations/diagrams, this provocative and insightful work is sure to spark debate and is essential reading for aficionados of Jared Diamond, James Gleick, Matt Ridley, Robert Wright, and Sharon Moalem.
Enlightenment Now
Books
INSTANT NEW YORK TIMES BESTSELLER A NEW YORK TIMES NOTABLE BOOK OF 2018ONE OF THE ECONOMIST'S BOOKS OF THE YEAR"My new favorite book of all time." --Bill Gates If you think the world is coming to an end, think again: people are living longer, healthier, freer, and happier lives, and while our problems are formidable, the solutions lie in the Enlightenment ideal of using reason and science.Is the world really falling apart? Is the ideal of progress obsolete? In this elegant assessment of the human condition in the third millennium, cognitive scientist and public intellectual Steven Pinker urges us to step back from the gory headlines and prophecies of doom, which play to our psychological biases. Instead, follow the data: In seventy-five jaw-dropping graphs, Pinker shows that life, health, prosperity, safety, peace, knowledge, and happiness are on the rise, not just in the West, but worldwide. This progress is not the result of some cosmic force. It is a gift of the Enlightenment: the conviction that reason and science can enhance human flourishing.Far from being a naïve hope, the Enlightenment, we now know, has worked. But more than ever, it needs a vigorous defense. The Enlightenment project swims against currents of human nature--tribalism, authoritarianism, demonization, magical thinking--which demagogues are all too willing to exploit. Many commentators, committed to political, religious, or romantic ideologies, fight a rearguard action against it. The result is a corrosive fatalism and a willingness to wreck the precious institutions of liberal democracy and global cooperation. With intellectual depth and literary flair, Enlightenment Now makes the case for reason, science, and humanism: the ideals we need to confront our problems and continue our progress.
Energy and Civilization
Books
Energy is the only universal currency; it is necessary for getting anything done. The conversion of energy on Earth ranges from terra-forming forces of plate tectonics to cumulative erosive effects of raindrops. Life on Earth depends on the photosynthetic conversion of solar energy into plant biomass. Humans have come to rely on many more energy flows -- ranging from fossil fuels to photovoltaic generation of electricity -- for their civilized existence. In this monumental history, Vaclav Smil provides a comprehensive account of how energy has shaped society, from pre-agricultural foraging societies through today's fossil fuel--driven civilization. Humans are the only species that can systematically harness energies outside their bodies, using the power of their intellect and an enormous variety of artifacts -- from the simplest tools to internal combustion engines and nuclear reactors. The epochal transition to fossil fuels affected everything: agriculture, industry, transportation, weapons, communication, economics, urbanization, quality of life, politics, and the environment. Smil describes humanity's energy eras in panoramic and interdisciplinary fashion, offering readers a magisterial overview. This book is an extensively updated and expanded version of Smil's Energy in World History (1994). Smil has incorporated an enormous amount of new material, reflecting the dramatic developments in energy studies over the last two decades and his own research over that time.