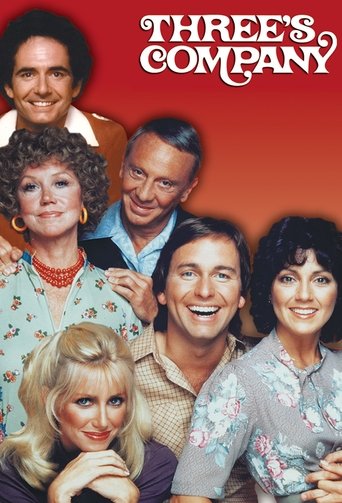 Three's Company
Shows
Three's Company is an American sitcom that aired from March 15, 1977, to September 18, 1984, on ABC. It is based on the British sitcom, Man About the House. The story revolves around three single roommates: Janet Wood, Chrissy Snow and Jack Tripper who all platonically share Apartment 201 in a Santa Monica, California apartment building owned by Mr. and Mrs. Roper. Later, following Suzanne Somers's departure, Jenilee Harrison joined the cast as Cindy Snow, who was later replaced by Priscilla Barnes as Terri Alden. After the Ropers were spun-off into their own sitcom, Don Knotts joined the cast as the roommates' new landlord Ralph Furley, brother of the new building owner, Bart Furley. The show, a comedy of errors, chronicles the escapades and hijinks of the trio's constant misunderstandings, social lives, and struggle to keep up with the rent.
Peep Show
Shows
Peep Show is an award-winning British sitcom starring David Mitchell and Robert Webb. The television programme is written by Jesse Armstrong and Sam Bain, with additional material by Mitchell and Webb amongst others. It has been broadcast on Channel 4 since 2003. The show's eighth series makes it the longest-returning comedy in Channel 4 history. Stylistically, the show uses point of view shots with the thoughts of main characters Mark and Jeremy audible as voiceovers. Peep Show follows the lives of two men from their twenties to thirties, Mark Corrigan, who has steady employment for most of the series, and Jeremy "Jez" Usbourne, an unemployed would-be musician. The pair met at the fictional Dartmouth University, and now share a flat in Croydon, South London. Mark is initially a loan manager at the fictional JLB Credit, later becoming a waiter, and then a bathroom supplies salesman. He is financially secure, but awkward and socially inept, with a pessimistic and cynical attitude. Jeremy, having split up with his girlfriend Big Suze prior to the first episode, now lives in Mark's spare room. He usually has a much more optimistic and energetic outlook on the world than Mark, yet his self-proclaimed talent as a musician has yet to be recognised, and he is not as popular or attractive as he would like to think himself, although he is more successful with the opposite sex than Mark.
Growing Pains
Shows
Growing Pains is an American television sitcom about an affluent family, residing in Huntington, Long Island, New York, with a working mother and a stay-at-home psychiatrist father raising three children together, which aired on ABC from September 24, 1985, to April 25, 1992.
That '70s Show
Shows
Crank up the 8-track and flash back to a time when platform shoes and puka shells were all the rage in this hilarious retro-sitcom. For Eric, Kelso, Jackie, Hyde, Donna and Fez, a group of high school teens who spend most of their time hanging out in Eric's basement, life in the '70s isn't always so groovy. But between trying to figure out the meaning of life, avoiding their parents, and dealing with out-of-control hormones, they've learned one thing for sure: they'll always get by with a little help from their friends.
Sign up to see the full list!
Sign up with Likewise to see the rest of this list + get more personalized content recommendations tailored to your interests.
Already have an account? Log in